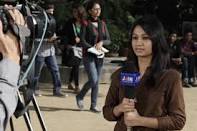 VJ Anchoring is one of respected profession as same as RJ in our country Nepal.In this profession we can earn name fame n money at one same time when working in any Television Station. in this training we train specially two diferent types of anchoring one is Basic VJ Anchoring course and the another is Advance VJ Anchoring . We are not giving the training only but also the experience in our full equipment technnical studio n production house. we provide the golden job opertunities to our excelant n desirable students. our previouse students are working as a senior program producer in some television station .


How to Become a News and VJ Anchor on Television
Television news anchors notify the public about breaking headlines and current news events. During live broadcasts, they introduce field and in-studio reporters, who provide additional news information on a given story. Anchors may also interview professionals who have opinions or facts relating to a story.


Working as a television news anchor allows a person to be on camera front and center delivering breaking news stories. However, the job comes with long hours and constant deadlines. Teamwork is key, and physical stamina is needed for the position. Professionals who start at a smaller news station can eventually work their way up to a large news provider.
Television stations look for applicants who have a bachelor's degree in a subject like broadcasting, journalism or mass communications.But,Professional Training and Experience in the field and on camera is also usually a requirement. + 2 Students can gain this experience by participating in an internship or student newspaper while having training in Derby Media. The table below includes the requirements to become a television news anchor or VJ ( Video Journalist).
| | Common Requirements |
| --- | --- |
| Degree Level | Bachelor's degree is standard* or Professional Training n Internship |
| Degree Fields | Broadcast, journalism, mass communications* or any other faculy |
| Experience | Experience from an internship 'in newspaper Radio or TV is important for entry-level jobs* |
| Key Skills | Practical Trainings , ,Excellent verbal and written skills, the ability to engage with an audience and interact with reporters and guests, persistence* |
| Computer Skills | Knowledge Audio and video editing , Nepali n Engklsh Typing |
| Technical Skills | Familiarity with Studio equipments, email enternet , Fax , microphone etc. |
| Additional Requirements | Physical stamina, able to remain objective when presenting the news*, skilled at adlibbing when breaking news occurs, knowledge of social media, schedule flexibility, professional image and dress, adept at interviewing and the ability to work well within a team with clear communication . |
With a strong educational background, work experience and contacts in the news and television industry, a student is prepared to find employment as a news anchor. Many news anchors start with small news stations or in branch offices in local areas. After working in these smaller locations, a news anchor can develop a good reputation and pursue promotional opportunities at bigger nationwide news stations.

Interested are welcome to Derby Media. 9851184552. 014428558
Putalisadak, Ktm