Home : : RJ Binod Pokhrel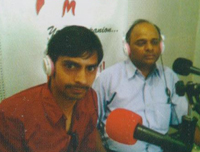 First of all I would like thank Dinesh sir and Pabi Mam from the core of my heart for granting me this platform to express my few words.
I always dreamed to be a part of Nepali media but never knew how to grow myself to make my dreams come true.
I looked for my destinations to get trained but didn't get satisfied. But finally I found the right institute and that was non-other than the Derby International. The infrastructure environment and the manpower of Derby are of once dream. If anyone wants to be a media person, He / She undoubtedly can remember and be a part of Derby. I always miss this family.